Published May 11, 2015
As part of our commitment to a continuous improvement cycle, we are pleased to announce a new StudentAid BC online application system to serve you better.
Enhanced security
If you had a StudentAid BC account before May 1, 2015 you will be asked to select new security questions and create a new password when you login for the first time after May 11, 2015.
This step will ensure your account is using the enhanced security features of our new system, keeping your personal data safe and secure.
More dashboard improvements
Before May 1, 2015 you could view the status of your submitted full-time student loan application in a single-page timeline layout.
Now you can view the status of applications you haven't submitted as well! It's now super easy to see what steps are still required to submit your application.
In addition, you can now edit and submit your application right from your dashboard - no more jumping out to a different system!
Extra bonus: Parents and spouses now have their own dashboard view making it much easier to complete any required Appendices.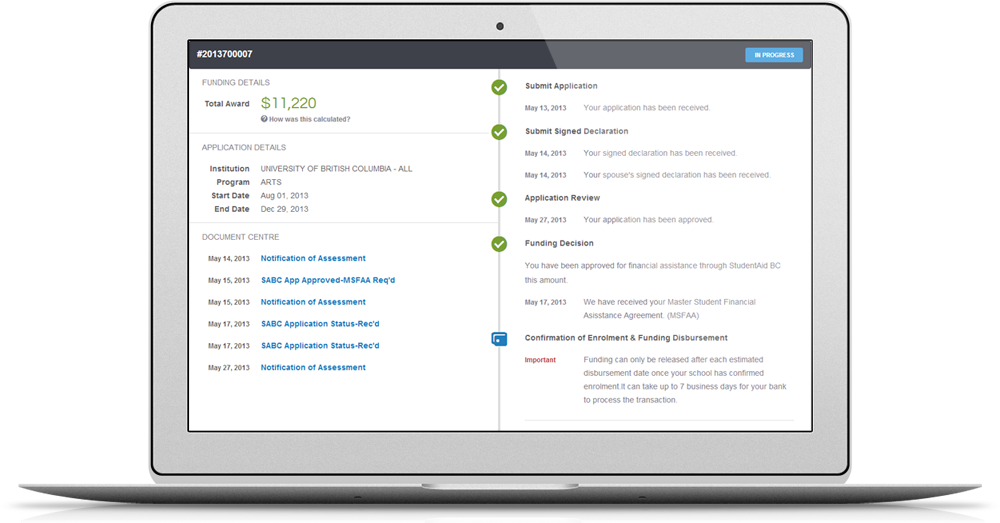 Brand new full-time application
The online full-time application has been completely redesigned from the ground up to offer greater accessibility and a more user-friendly experience.
While you complete an online full-time application, the new system will perform validation checks along the way to help reduce errors in submitted applications. This extra step can result in faster processing of your application.
Apply today for classes starting between August 1, 2014 and July 31, 2015.
NOTE: If your classes start between August 1, 2015 and July 31, 2016, the system will be ready to accept your application during the first week of June 2015..